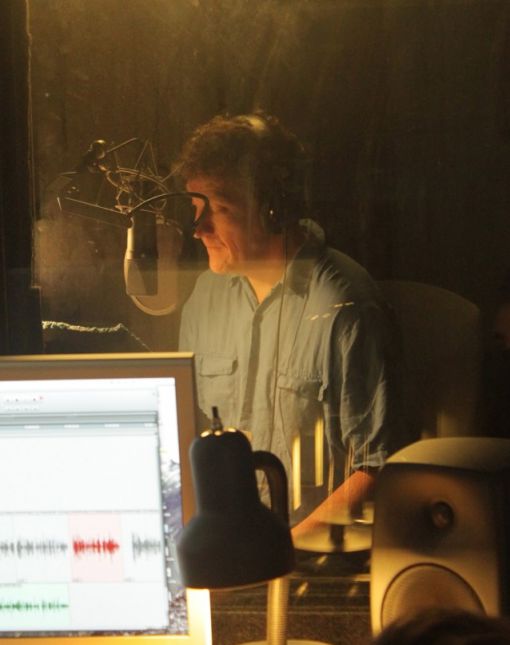 I have been recording professionally in German and English since 2006. I am a native German speaker, a baritone, and in my forties. That means that I don't get cast as the juvenile hero of anime stories anymore, as I had to realize recently. But I do get cast as a C level executive, technical instructor, narrator, middle age cop or gangster, or once, as God.
Recording German
Most of my recordings are in German. As a Norddeutscher, my German is clear and very hochdeutsch. I can talk fast and precise, which really helps with technology scripts that have been translated from English to German. For timed recordings, we often find ourselves in the studio having to record a lot more German text for the original English time slot, just because the language demands more words. I can offer several regional accents and, of course, odd and funny voices.
Recording German
In the last couple of years I have also been booked for English recordings. There is an increasing demand for non-American accented English, particularly for global brands, whose stakeholders abroad at times may have a hard time understanding American-English. One of my favourite studios has called this kind of pronounciation style "World English." My pronunciation ranges from slightly accented and hard to place to a full blown Bond-villain accented English (think Doofenshmirtz).
A Wealth of Clients and Studios
I have recorded for industrials, commercials, infomercials, movie dubbing, museum tours, travel guides, audiobooks, textbooks, and website audio. Clients include the NBA, SAP, Berlitz, IBM, Sprite, YUM! Brands, Honda, Microsoft, Merck, Credit Suisse, Call of Duty, MoneyGram, Reebok, MoMA New York, American Express, KEEN Footwear, the videogame "Band of Brothers," and many more. Studios I have worked with include New York Audio, Creative Media Design, CKP, Transperfect, Audioworks, City Vox, Ibero-American, Lotas, Full House, Acoustiguide, Onomatopoiea (through Selective Casting), Tipping Sprung, Metro AV, Loop Seven, and DuArt Media.